In spring 2018 I started up a new activity: nature tours. The first tour went to South East Crete, a week-long botany tour with eight participants. We saw most of the orchids in the area, three species of tulips and a lot of birds. Due to Covid-19 no tour took place in 2020 and 2021. The trip planned for 2022 was also canceled.
In October 2018 I organized an autumn tour to the same area, with focus on walking, bird-watching and Minoan culture. This tour was rapidly fully booked, but will be back again later on. Here is a short drone-video from one of the walks.
We always stay with Giorgos and Anna at Akros Oreon a bit up in the mountains.
In the future there might be other destinations added as well.
Please contact me if you wish to get more details or check my specific website: Resa med Hjalmar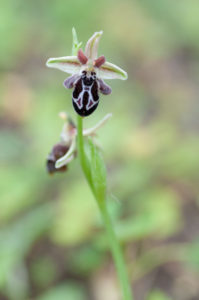 Ophrys cretica (Cretan bee orchid).